Snapchat Ads hit the scene back in 2014 and the company has been steadily rolling out new features every year since.
If you're looking for inspiration for your own marketing strategies, we've compiled a list of excellent Snapchat Ads campaigns that made waves in the last few years.
Most of these examples cover marketing options that are geared towards bigger brands and companies with broad public appeal. That's not to say that Snapchat doesn't have marketing options for smaller brands! Our team at 565 Media has a lot of experience with direct response tactics using the platform, which we'll cover throughout the article as well.
So let's dive in and take a look at successful Snapchat Ads campaigns from famous products and brands in the past, plus some insights into whether the platform is right for your business goals.
What are Snapchat Ads?
Snapchat Ads can come in the form of three different ways to engage with Snapchat users.
The first, called sponsored geofilters, allows users to overlay a sponsored image or animation on top of their snaps based on that user's location. For example, event organizers can help promote an ongoing festival or convention with a sponsored geofilter animation, or restaurants can promote a limited time menu item with a sponsored series of images or the product.
The next, called sponsored lenses, allows users to add a filter that distorts their faces or their surroundings with images and animations. These typically tie into the brand, such as turning your face into a Taco to promote Taco Bell or giving your head a mutant makeover for an upcoming X-Men movie. It gives users a fun way to interact with your brand without going overboard with the messaging.
The last, called Snap Ads, are vertical 10-second videos that appear while users are typically browsing their snapchat accounts. They can appear as original Shows, curated Our Stories, media companies' Publisher Stories and between peoples' publicly posted Stories. Whereas sponsored geofilters and lenses may be ideal for brand reinforcement, Snap Ads are much better at communicating the initial message or anything a little more complicated.
Free Snapchat Marketing Strategies
If you don't have the marketing budget to throw behind advertising on Snapchat, there are still plenty of inventive ways to promote your business or brand for free. These are clever organic marketing strategies for Snapchat.
Some brands may consider a Brand Takeover, which is when the social media account for the brand or product is given over to someone new. This could be a well known celebrity, an industry leader, a new staff member, anyone! With the brand takeover, the attraction for other users is that the content will be new and it will come with an element of surprise. What will this person do with the platform?
Brand takeovers typically help with cross promotional strategies. It's the social media version of a guest post on your blog, or guest hosting on a late night talk show. Other than helping to promote both the social media account and the person taking control, brand takeovers can help reinforce the messaging for both if they are selected well. For example, if a marketing agency wanted to display the personal side of the agency, having staff take turns controlling the company social media account would help promote the agency as a collection of interesting people rather than a faceless company. Or if a tourism board wanted to promote a local destination, having a well known travel blogger do a brand takeover of the Snapchat account while they visit the destination would provide valuable engagement with that blogger's subscribers and community.
Hashtags are another popular element to incorporate into any #SnapchatMarketing strategy. There are typically two options for using hashtags. The first is to invent a new one.
Most major brands will incorporate a unique hashtag, usually the same as their advertising's tagline, into their social media posts. In one of the examples below, Dunkin Donuts promotes #NationalDonutDay, which as a hashtag did not exist before the social media campaign went live. So marketing managers can track the use of the hashtag after the launch of the campaign to get an idea of how popular it got over the course of the campaign. And a hashtag like #NationalDonutDay is fairly general – it is not associated with Dunkin Donuts directly – so other SnapChat users can jump in and use the hashtag for their posts as well. Carefully selected hashtags with their factors in mind have a better chance of going viral.
The other option is to hop on an existing popular hashtag. Much like barnacles on the bottom of a whale, smaller brands can get some free exposure by carefully selecting relevant hashtags and incorporating them into their social media posts. We'll explore some other options in the examples below.
Story Ads
Instagram copied them with the Story Ads.
Dynamic Ads
Involve a product catelo liek shopping ads. You can click to add to cart. Perfect for remarketing. Import your Merchant Center Feed from Google, reformat and start running.
Creative Snapchat Ads Examples
1. Stranger Things Augmented Reality Filters
The first example of the 3D World Lens being used in a marketing campaign, the Stranger Things Snapchat campaign broke into a whole new world of marketing possibilities. The app filter allowed users to scan their faces and give themselves a bloody nose and brooding background from the TV series. It also used the phone camera to transport users to the living room of Joyce Byers and the Upside Down. A very fun tie-in with the show, and an excellent example of the type of augmented reality filters that Snapchat is debuting for other brands.
[Embed: https://imagesvc.meredithcorp.io/v3/mm/gif?url=https%3A%2F%2Fstatic.onecms.io%2Fwp-content%2Fuploads%2Fsites%2F6%2F2017%2F10%2Fst-face-lens-gif.gif]
[Embed: https://youtu.be/Q-5PQLG3324]
2. Dunkin' Donuts Sponsored Lenses for National Donut Day
Declaring June 2nd National Donut Day, Dunkin' Donuts rolled out a promotion in 2017 that turned users' heads into gigantic pink donuts. The filter itself wasn't a huge innovation in technology, and probably the better for it. The crudeness added to the fun, and users responded well. According to Dunkin' Donuts, the company gained ten times the number of Snapchat followers from the promotion than their average monthly followers and remains the highest viewed story by the company to this day.
[Embed: https://twitter.com/i/status/870595953929093120]
3. Budweiser's Interactive Super Bowl Game
Twenty-four hours before Super Bowl LI debuted in 2017, Budweiser launched an interactive campaign on Snapchat that turned the app into a gaming experience. The Snap Ad was designed as a mini football game, where users could play as a team to win exclusive Snapchat filters.
Selecting different plays to run, named humorous things like "Can Coverage" or "Brew Bootleg". This type of advertising, as it will become obvious as you take a look at the screenshots, requires a very large budget. But even if you don't have the funds to recreate Budweiser's gaming experience, it's a great example of the interactive features that Snapchat makes available to advertisers.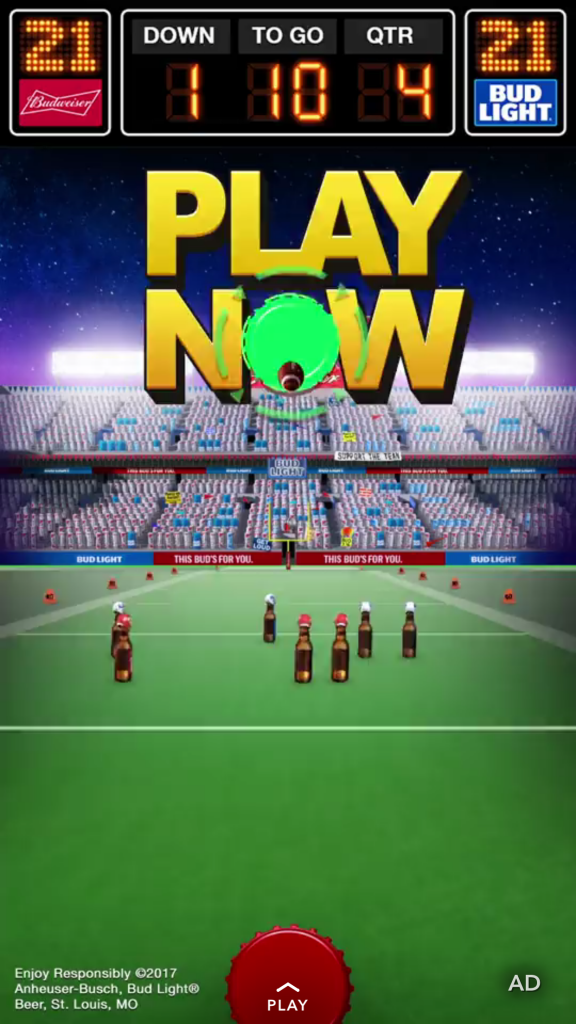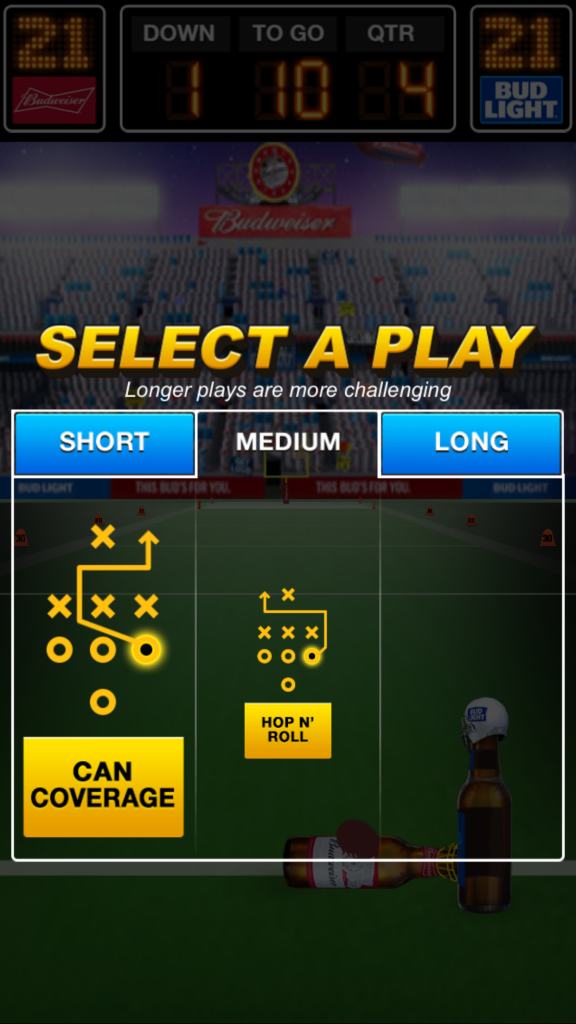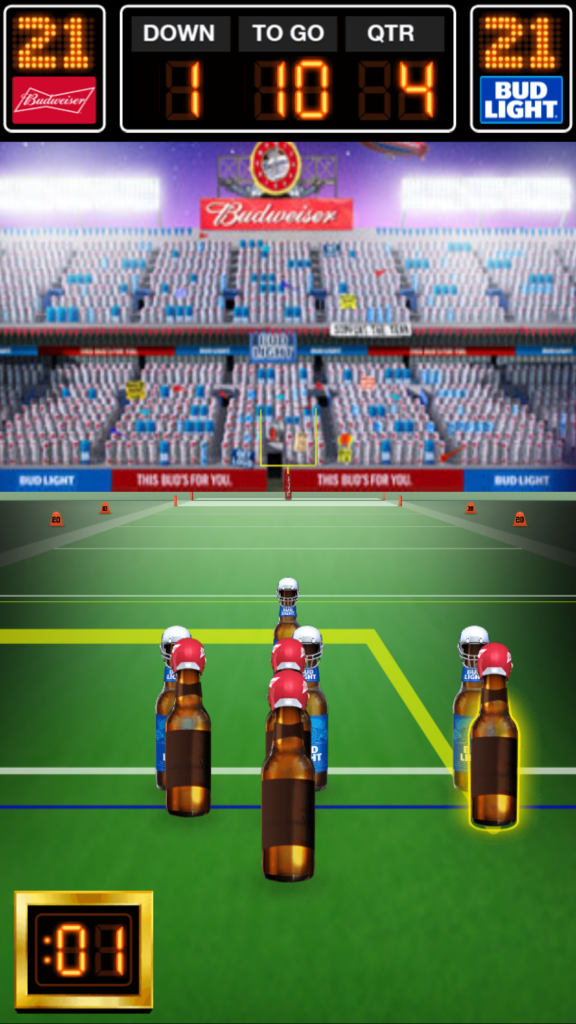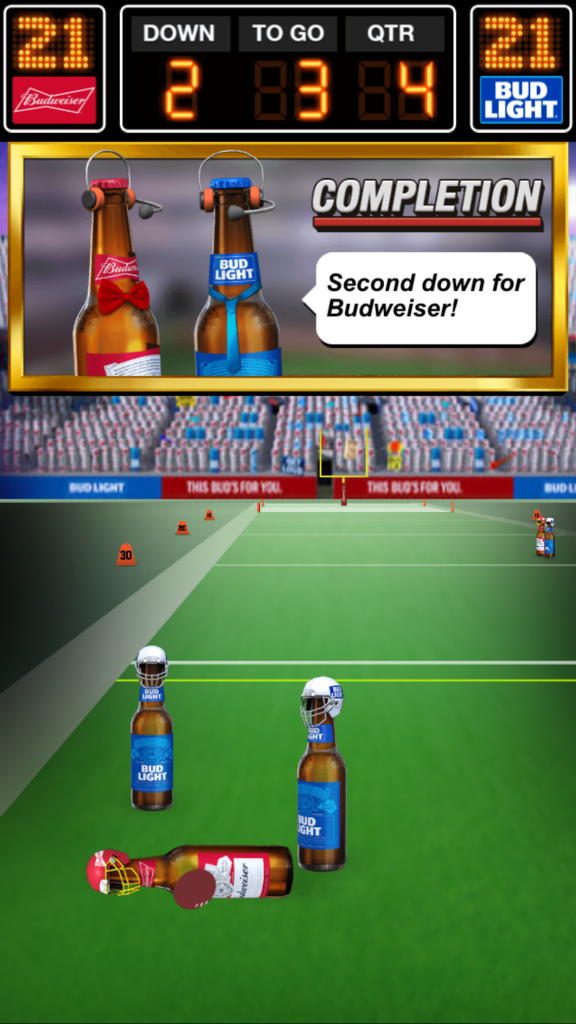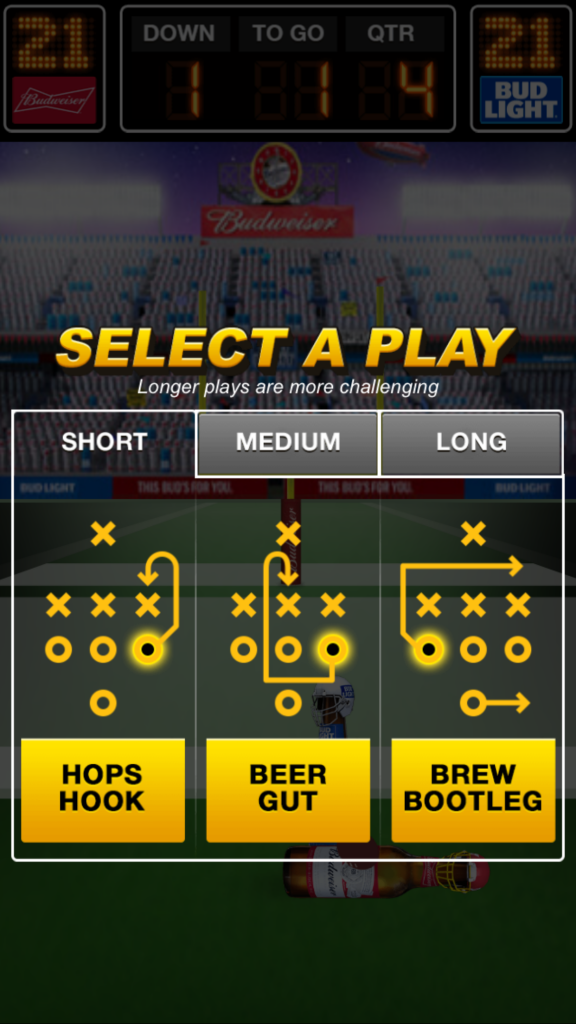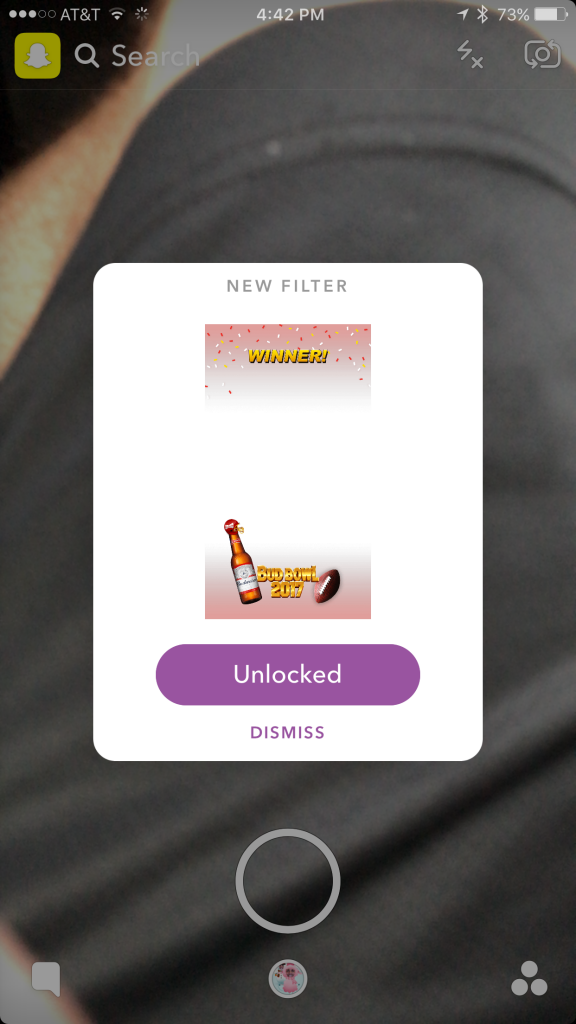 4. Gatorade Sponsored Lens
Speaking of Super Bowl LI brand tie-ins, Gatorade unveiled its #GatoradeDunk sponsored lens during the big game in 2017 as well. The lens allowed users to simulate being doused in a cooler filled with Gatorade, a classic football game tradition (that also happens to reinforce the brand.)
The campaign was quick, simple, and resonated with fans in a big way. The filter got more than 100 million views over Super Bowl weekend, and 170 million total.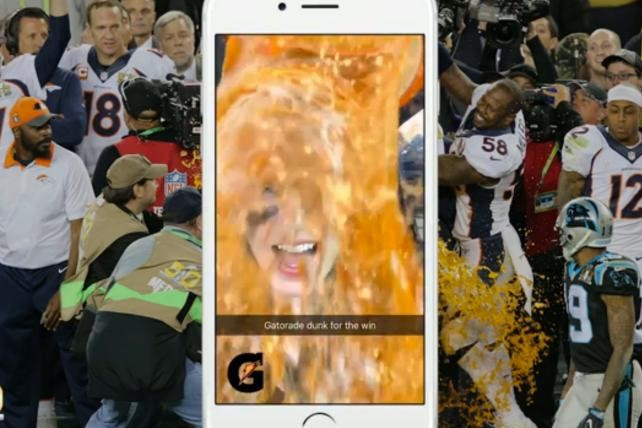 5. MTV Music Awards Live Story
Back during the 2015 MTV Video Music Awards, Snapchat was still a fairly new platform and didn't have much of a robust selection of advertising options. To promote the VMAs, MTV started a Live Story, which allowed anyone within the geographic area to post on Snapchat using the same hashtag. This resulted in a deluge of celebrities and fans posting videos from the audience and behind the scenes, resulting in a viral flood of coverage of the event.
It was estimated that about 10 million people watched the VMAs on live television, while the event drew about 12 million users on the Snapchat Live Story. (And likely at a much cheaper cost!)
[Embed: https://www.youtube.com/watch?v=J2nafaDZTI8]
6. Major League Soccer Player Takeovers
Another innovative way to promote your brand or Snapchat account is the (now) classic Snapchat takeover.
A "takeover" is when a celebrity or influencer takes control of a brand's social media account and can post whatever they like. Relinquishing control to another person, especially a sports star adds a little unpredictability to the day. What will they post? Will they cause any trouble for the brand? The takeover itself becomes an event worth checking out. And for the Snapchat platform, the posts disappear after the day, adding a sense of FOMO for users to join in while it's happening.
Major League Soccer dedicated an entire week in 2015 to an account takeover from its various stars, giving everyone a little bit of time to do whatever they wanted to help promote themselves and the league.
If you have access to interesting people, an account takeover might be a great opportunity to promote your brand!
[Embed: https://youtu.be/Y66ELxjuM50]
Using Snapchat Ads for Your Business
Not all brands and businesses have the marketing budget to launch an augmented reality filter or an interactive game. Some smaller brands have had success with sponsored geofilters, sponsored lenses, or dedicated hashtags. And marketing gimmicks like account takeovers don't cost a thing.
Performance Tracking is Key
Whatever your Snapchat marketing strategy, it's important to also make sure that you track performance carefully and precisely. How many times was your unique hashtag used? How many times was your website linked, which includes UTM tracking code, clicked? Of the referral traffic to your website, how many users interacted with key elements, and how far down the sales funnel did they travel?
Many small and mid-sized businesses understand the importance of social media in improving brand awareness or generating sales leads. But without performance tracking in place before the launch of a Snapchat Ads campaign, it's impossible to gain insights, understand users, or improve your campaigns in the future.
Optimizing Your Cost Per Acquisition
When you have your campaign strategy defined and your performance tracking in place, it's time to optimize your campaign settings. For social media platforms like Snapchat, audience targeting is king.
In order to make sure that your targeting is as good as it can be, its a good idea to start with remarketing lists. Make sure that you have tracking pixels in place, your remarketing audiences are populating, and that your ads platform is receiving those remarketing lists. From there, you can refine the audience targeting based on what level of the sales funnel where those users were last, and market a message specific to them.
For example, if you have a list of users that added something to their cart and then left the site, target them with a special discount to get them back on board. Or if users visited a specific product page but went no further, show them ads with that product front and center.
The options are wide open to marketers looking for opportunities. In the age of Big Data, digital marketing on ads platforms like Snapchat and other social media have the potential to bring in huge ROI.
Feeling Inspired?
Do you want to know more about our Snapchat Ads services at 565 Media? Don't hesitate to contact us or call (323) 902-7439. Our experts will come up with optimized ad campaigns tailored for your business.
If you're looking to effectively and efficiently boost ROI with your marketing budget, 565 Media is your top choice. Simply connect with our on-demand team of full stack developers and start with a list of what problems you need solved. Our team specializes in developing customized, scaled marketing campaigns geared towards generating profitable leads and growing your business.