Adding Users, the TikTok Pixel, etc
TikTok debuted in the U.S. in 2017. By 2020, the social media platform had over 100 million users and an estimated 18% market share for all global Internet users under the age of 64.
With its user base on the rise, especially from younger audiences, as well as a high engagement content platform, TikTok is primed to be the premier social media destination for reaching Gen Z in 2021 and beyond.
Advertisers may be looking to get a jump start on the platform before the competition gets too crowded. Our social media performance marketing team at 565 Media is equipped to help. If you're ready to get started with promoting your business or brand, here are some tips on how to get started with TikTok Ads.
Step 1: Create a TikTok Ads Account
For Businesses, use TikTok Ads Manager
If you are a business running your own TikTok Ads, the first place to start is to create a new Ad Account. On the sign up page, fill out your business' information and click Sign Up.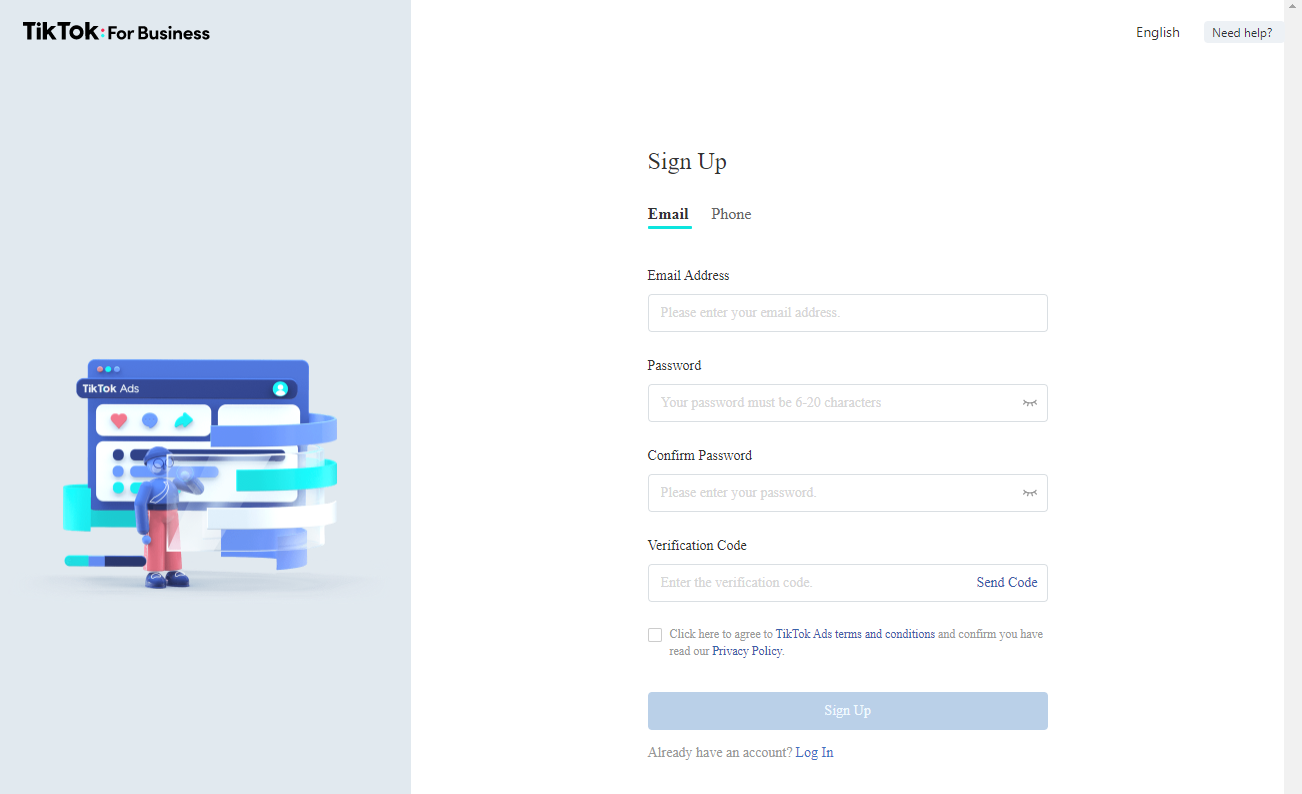 From there, you'll be asked to add basic information about your business, such as the country/region where your business is located, the time zone where your business is located, your business name and the currency that your business uses for billing. Once you have completed filling out this information, click Register.
Once you have an Ad Account up and running, you'll still need to fill out some additional information about your business to complete the set up. TikTok requires more business information such as your company website, the industry that best represents your business, and your business location, including street address, state/province, and postal code. You can also choose to verify your business by uploading a government or officially issued number that you use to pay taxes in your country. This is optional, and allows you to use additional TikTok For Business services like the TikTok Creator Marketplace.
Once you have these basic business descriptions entered into the system, your TikTok Ad Manager account is up and running!
For Marketers, use TikTok Business Center
If you are an advertising agency or plan on managing multiple ad accounts through TikTok, it is important to create a TikTok Business Center account first. The Business Center acts as a hub for all of the various ads accounts that you will be managing, and from there you'll be able to manage user permissions across the various accounts.
After setting up a TikTok Business Center account, navigate to Ad Accounts and select Create a New Ad Account to get started with a new TikTok Ads Manager Account within your Business Center.
Step 2: Setup Billing and Payments
Advertisers will have two options for payment in the TikTok Ads platform: Manual and Automatic.
Manual payment plans require payment up front and are typically referred to as "topping-up" or a "top-up". This means that your business plans to deposit a lump sum into the ads account that your ad campaigns will then draw from while they run.
Automatic payment plans do not require payment up front and will automatically charge your credit card or bank account when one of two events occurs — Either when you reach your weekly billing date or when you reach a billing threshold amount, whichever comes first.
Step 3: Add Users to TikTok Business Center
After creating a new Ad Account and setting up billing preferences, you will need to wait a short period for the account to be approved. This process typically takes under 24 hours.
Once the ad account is approved, you will be able to add, remove or change user permissions for that ad account.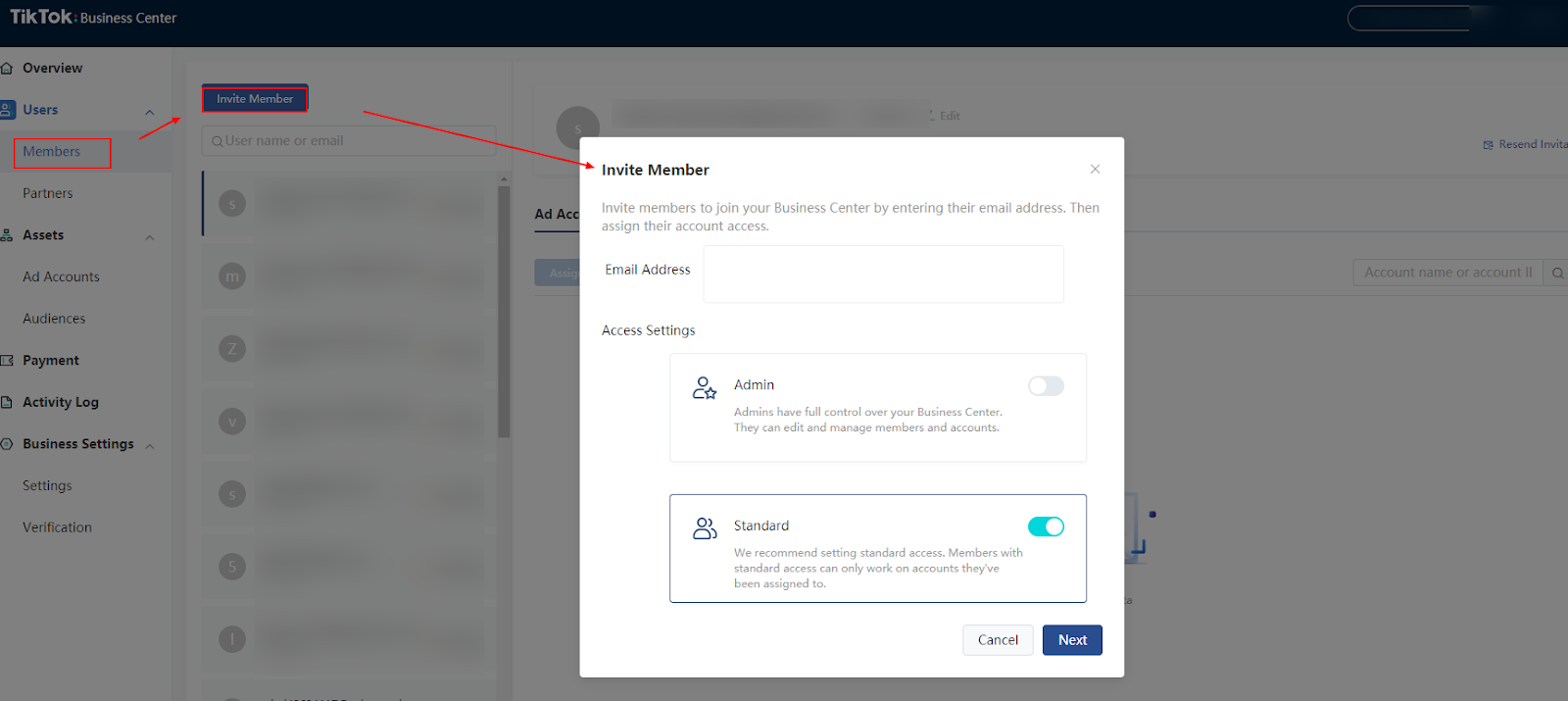 Please note that only users with Business Center admin privileges can invite new members to an ad account.
To Add New Users
1. Go to the User tab in the toolbar on the left and click Member
2. Select Invite Member
3. Enter the email address of the person that you would like to invite as a user. Then select the ad account that you would like them to have access to.
Step 4: Set up the TikTok Pixel
The TikTok Pixel allows advertisers to track goal conversions on a website. It is an essential tool for measuring the effectiveness of your TikTok Ads. It is also used for generating more advanced audience targeting options, so it should be considered a top priority if you plan on running retargeting campaigns or using audience exclusions to remove converters from your retargeting campaigns.
Before launching any campaigns, it is important to make sure that the Pixel is installed correctly. If you plan to use retargeting, make sure that the Pixel is installed for at least 30 days in advance. This ensures that the Pixel has enough time to collect traffic data on your website and match it to existing TikTok users for remarketing.
To Create a TikTok Pixel
Go to the Asset tab in the toolbar on the left and select Event.
Select Create a Pixel. Make sure to give it a unique name that will help you remember its purpose later, especially if you are managing multiple ad accounts.
Install the Pixel code. You can either select Manually Install Pixel Code or use a third-party plug-in. To manually install the pixel, you will need access to your website's backend code to copy and paste a script into the header or footer or your page. Depending on the platform that your website runs on, there may be third party plug-ins or other options to automate this process.
To double check and troubleshoot the installation of your TikTok Pixel, use the TikTok Pixel Helper Chrome plugin.
TikTok Pixel allows for a few advanced matching options for targeting audiences. We recommend using the TikTok Pixel Dev Mode & Advanced Matching guide for more advanced setup options.
Step 5: Choose Your Placements and Audiences
There are many different options for creating target audiences in TikTok Ads. Advertisers can use general demographics like age, gender, or geographic area, plus some other standard targeting options such as interests and device types.
Note: Target audiences must be greater than the 1,000 user minimum. This helps to address privacy concerns. We recommend installing the TikTok Pixel up to 30 days in advance of any ad campaigns. That way, the pixel will have enough time to populate a retargeting list than exceeds the 1,000 user limit.
After you have created a target audience for your ad campaign, you can apply the targeting parameters to target specific platforms, News Feed Apps, Vigo, Helo, or Pangle, and TikTok.
Creating Lookalike Audiences
Similarly to the way Facebook Ads allows advertisers to create lookalike audiences, TikTok Ads gives marketing professionals the option to expand their target audience to users that the platform finds to be very similar to their core target audience.
To create a lookalike audience, find the Assets tab in the toolbar on the left and select Audiences. Select Create Audience, then Create a Lookalike Audience. From there you will need to specify the Source. TikTok Ads will find common attributes from your Source audience, such as demographics, location, operating system, interests, etc. and then target other users and groups that share similar attributes.
Step 6: Create an Ad
TikTok is a very visual medium. For best results, video creative is recommended. If you or your business don't have access to video content, TikTok allows you to use images, which will be grouped into video content for you. For more information, refer to TikTok's Video Ads Specifications guide.
Types of TikTok Ads Campaigns
There are many types of advertising and promotional campaigns you can run on TikTok. As experienced marketers on this platform, we will craft a customized mix of options based on your business goals and budget. Here are the different types of TikTok Ads Campaigns that are currently available on the platform.

Brand Takeover
Brand takeovers can be video clips, gifs, or still images that can be linked to your brand page or a hashtag challenge in TikTok. You will take over a particular product or service category and gain the attention of your target audience for a day. Brand takeovers are great because there's very little competition from other brands and each brand gets exclusive access to the screen for one day in the category. The ad will show up on the user's feed before any other content.
Native Ads
In-Feed native video ads are also very appealing and catch attention immediately. They can be anywhere between 6 and 15 seconds long, so there's plenty of time to attract user attention. The ads appear between user videos, and people have the option to skip or scroll to the next option.
Hashtag Challenges
A sponsored hashtag challenge can help you reach beyond a particular category or set of audience. It has a wider reach than in-feed ads or brand takeovers. You can attract new audiences, get user engagement, and encourage user-generated content. All of these options can help you reach a wide audience and get them interested in your brand. TikTok users love challenges and interactive content, which makes this a great advertising option.
Branded Lenses
Branded lenses are also an interactive advertising option that engages users actively. Our marketers can create a brand-based filter or lens to promote your products or services. The filters remain live for around ten days and can generate a lot of engagement.
Best Practices for Video Ads
Center all important imagery in a vertical format.
Include clear, crisp, high-resolution media.
Keep video length between 9 and 15 seconds.
Include background music or sound.
Include captions so that viewers can understand the message even if they don't watch the whole ad.
Include a clear call-to-action.
Step 7: Track Your Campaign Performance
So you've created an ad account, set up your audience targeting, created your ads and launched the campaigns…Now what?
You can now monitor your campaign performance in the ads dashboard.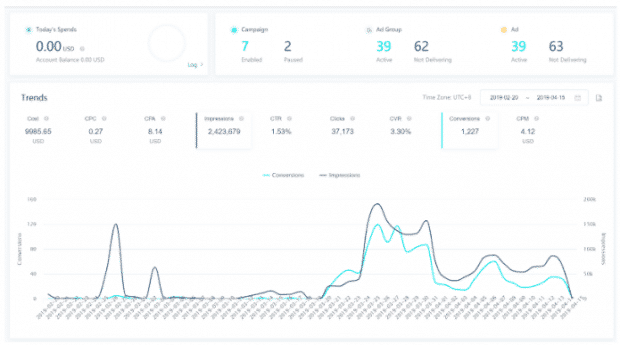 The ads dashboard will provide you with daily performance data for your ads campaigns. Learn how each campaign, ad group and individual ad by adjusting the filters to segment by specific dimensions and metrics to get a better understanding of what's working and what isn't. For more information, use this TikTok Ads Metrics list for reference.
Step 8: Optimize Your Campaign
Once your ads campaigns have been running for a while, you'll get a good understanding of which video creative resonates with your audience, which audiences are most receptive to advertising, and which messages are most effective. But to truly optimize your campaigns, constant testing is a necessity.
TikTok Ads Manager allows marketers to do Split Testing, also known as A/B testing. This is a method that can help advertisers compare and contrast different variables in the campaign setup to determine which strategies work the best.
For example, you can test two different sets of ad materials, provided that the remaining settings are the same, and see which performs better. You can also take two different audiences, given that all other advertising settings are the same, and compare which audience is more profitable.
Split testing lets you know which audience/ad material/optimization approach performs better using a clean test with mutually exclusive exposed groups. When split testing, groups A and B will be exposed to two different groups of users, which allows your experiment to be completed more scientifically.
Feeling Inspired?
Do you want to know more about our TikTok ads services at 565 Media? Have questions about social media marketing or digital strategy in general? Don't hesitate to contact us or call (323) 902-7439. Our experts will come up with optimized ad campaigns tailored for your business.
If you're looking to effectively and efficiently boost ROI with your marketing budget, 565 Media is your top choice. Simply connect with our on-demand team of full stack developers and start with a list of what problems you need solved. Our team specializes in developing customized, scaled marketing campaigns geared towards generating profitable leads and growing your business.